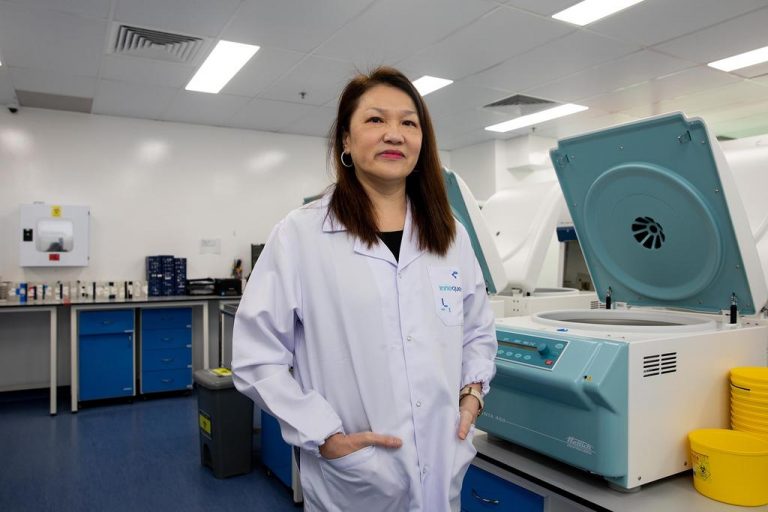 All that changed when the coronavirus reached Singapore's shores last year, and the country needed to ramp up its testing capabilities to cope with the influx of Covid-19 cases.In March last year, it was one of the labs called on by the authorities to set up coronavirus testing facilities.
"At the time, MOH (Ministry of Health) was preparing to have the capacity for at least 40,000 test a day. We were approached to add to that capacity of testing, and were of course very honoured and immediately jumped to the opportunity to do that," said Ms Ginny Foo, Innoquest's chief executive officer.
But the task the team had at hand was not as simple as converting existing labs into ones that are ready to take in and process Covid-19 swab samples. New labs had to be built from scratch in the shortest amount of time possible.
"We literally needed to build new labs because we cannot use our core laboratories to do this since it's a completely different type of testing," said Ms Foo, who is in her 50s, during a recent interview with TODAY.
Testing facilities for infectious diseases require a Class 2 Plus certified lab, which Innoquest did not have before the pandemic.
Today, Innoquest is one of the 31 approved facilities which provide polymerase chain reaction (PCR) testing for Covid-19.
BUILDING LABS IN A PANDEMIC
Building up new diagnostic laboratories from scratch in the middle of a pandemic was no easy feat, said Ms Foo.
The one good fortune that the team had was discovering that the eighth floor of the building where its headquarters are located in Bukit Merah was vacant and had enough space to set up three Covid-19 testing facilities.
For starters, demand for the necessary equipment — such as biosafety cabinets and PCR molecular instruments — was in high demand due to the pandemic, making it a challenge to secure.
"We were really sourcing for all of these from around the globe… anything that was available, we had to reserve fast. If not, other countries would take them," said Ms Foo.
Then there was the challenge of having enough workers to help with the construction. At the time, the authorities had barred migrant workers from leaving their dormitories in order to curb the spread of the infection, which was then spreading rapidly among the workers living there. The Malaysian authorities had also imposed a Movement Control Order, preventing workers living across the Causeway from entering Singapore.
Even so, Ms Foo recalled that at one point, two of the workers tested positive for Covid-19 while the works were ongoing.
This meant that the Innoquest team working on-site had to serve quarantine orders, and the contractor had to find a fresh slate of workers.
"It was a very challenging time. But the amazing thing was we managed to get the lab built in six to nine weeks," Ms Foo said, adding that a regular lab usually takes around six to nine months to complete.
Construction for the three Covid-19 testing facilities began during the circuit breaker period last April when Singapore had a partial lockdown and was completed two months later in June.
RALLYING THE TEAM 
Understanding the risks involved with working in a Covid-19 testing facility, Ms Foo said the company put up a sign-up sheet and asked employees if they would like to volunteer to work in the lab.
"I was very surprised, as well as proud, that a lot of our staff members signed up and said that they want to volunteer."
Some employees in the sales team, who had more time freed up as they could not do clinic visits, even volunteered to drive the vans to transport the samples from the hospitals and clinics to the lab.
"We had a lot of these kinds of situations where people stepped up and went beyond the call of duty to do something that is really not part of their job scope."
During those early days, the team pulled 16-hour days in the office just to make sure that everything was in order to get the lab up and running.
Later, when the labs were set up, the lab technicians worked 12-hour shifts every alternate day as the test facility runs at all hours every day to get swabs processed.
At its peak, the lab ran more than 10,000 tests a day. Right now, Innoquest takes about six to eight hours to process one batch of 96 swab tests.
Ms Foo said some employees even chose to live separately from their families for months during that period as they were afraid they would contract the virus and infect their household members.
The mental and physical stress took a toll, and that is why she asked the authorities if the lab could take a one-day break on Polling Day last year so that all the employees could have a good night's rest and recharge.
Though things have become less hectic now, Ms Foo said the team at Innoquest are always on their toes ready for if the volume goes back to its peak last year.
"It's almost like a war you know, you have to be ready. When the enemy is not attacking, you can be quiet. But when the volume comes in again, you just step up to do what's necessary," she said.
Read more at https://www.todayonline.com/singapore/how-one-company-built-covid-19-testing-lab-within-nine-weeks-during-circuit-breaker